Hot cross buns, fresh flowers and a four-day bank holiday weekend; there's certainly a lot to like about Easter, but it's undoubtedly the chocolate Easter eggs that we love the most. Year after year, however, it seems that the prices of our treasured chocolate Easter eggs continue to rise. We've therefore gathered together our top 10 favourite cheap Easter eggs for 2019 to allow you to indulge while not overspending on your budget.
From vegan Easter eggs to much-loved Cadbury favourites, these are just some of the best cheap Easter eggs available to crack open come Easter 2019.
When it comes to chocolate, Maltesers are a firm favourite for many, and the same can comfortably be said of its Easter egg offering too. Featuring a hollow chocolate egg with a MaltEaster Mini Bunny chocolate, Maltesers' Easter egg is guaranteed to be a hit with any chocolate lover.
The much-loved playground classic, this year's Freddo Easter egg offering is definitely near the top of the list for best cheap Easter eggs. Retailing for £1, the chocolate egg also comes with a bag of Freddo Faces to enjoy.
As the range of vegan Easter eggs continues to grow year after year, the Divine Smooth Hazelnut Dark Chocolate Easter Egg still stands out as one of the best on the market. Created with deliciously crunchy hazelnuts and fair-trade cocoa, this vegan Easter egg is sure to please anyone worried that they might be missing out this year.
The iconic gold bunny is a firm favourite with many and still remains the standout of the Lindt Easter eggs range. With its recognisable bell, super smooth chocolate and comfortably fitting into our list of cheap Easter eggs, the Lindt Easter Gold Bunny is sure to a popular choice this year.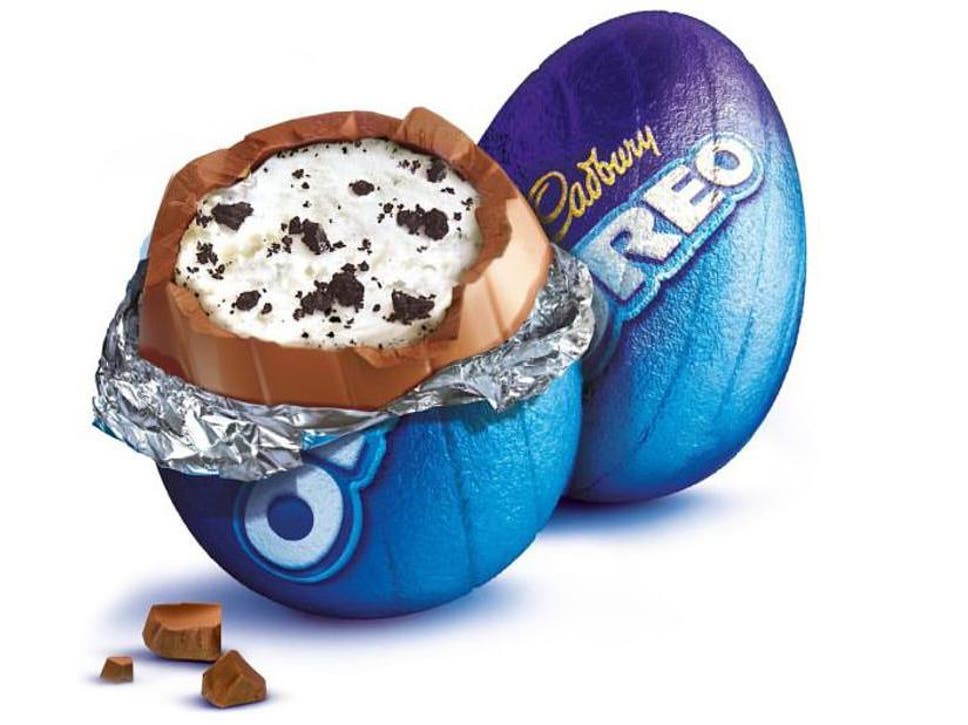 Hitting UK shelves for the first time this year, the Oreo Cream Egg is sure to be a welcome new addition to this year chocolate choices. Based on the ever-popular Cadbury's Cream Egg, this new egg retains the classic outer chocolate casing but replaces the inner filling with Oreo cream and biscuit chunks.
The beloved sugar-coated, coloured chocolate Smarties have been a popular choice among children for decades, and its chocolate Easter egg edition is no different. Available for the bargain price of £1, the Smarties Easter Egg also comes with a bag of Smarties hidden within the chocolate Easter egg.
Sure to please plenty of little ones this Easter, Thorntons' Harry Hopalot Easter Egg is surely the pick of Thornton's wallet-friendly options. Featuring a milk chocolate Harry Hopalot image on a white chocolate egg made from delicious Thornton's chocolate, you can be sure it won't hang around for long.
Infused with orange oil for an extra fruity hint, the Moo Free Organic Cheeky Orange Easter Egg makes a great option for those who prefer their chocolate dairy free. While for anyone who fancies something a little different, Moo Free's excellent range of other vegan Easter eggs certainly don't disappoint.
While the new Oreo crème egg might be getting all the attention this year, the much-loved Cadbury's Crème Egg still remains the nation's favourite. You can currently pick the eggs up at Tesco for a bargain 3 for a £1 but be quick, they disappear again at Easter for another year. You can't beat a Cadbury Easter egg, and this Cadbury's Dairy Milk Chocolate Easter Bunny is sure to be a winner with all. A great alternative to the standard Cadbury Easter eggs, this adorable hollow chocolate bunny can be found for as little as a £1.
Easter Egg Offers
When it comes to buying chocolate Easter eggs, there are plenty of opportunities to pick them up for cheaper than their everyday price. In recent years, Easter eggs have pretty much hit the shelves straight after Christmas and then hung around all the way up to a week or two after Easter has finished.
If you're after a bargain, sometimes holding out until the week following Easter can lead to some great savings. While many Easter eggs hold their price for a day or two following the Easter weekend, holding out for a few more days can quickly see their prices slashed in half.
Save Money this Easter
Hopefully, one of your favourite chocolate Easter eggs has made our list and you're able to save this Easter. However, if you're looking to make your money go even further during the Easter period, we've got a few more great ideas.
Plan your own Easter egg hunt: Perfect for keeping the kids entertained for hours without any of the cost, an Easter egg hunt could be ideal as long as the weather stays dry. Simply hide a few Easter eggs around the garden and you'll soon have the kids out and about in the garden.
Bake your own Easter treats: Baking Easter treats together can be another great way of saving and keeping the kids busy during the Easter holidays. Not only will you likely save on the costs of shop bought alternatives, but you'll also have a lot more fun making them.
Make your own chocolate Easter eggs: For those who prefer pure chocolate over baking, creating your own chocolate Easter eggs is sure to go down a treat. All you need is a couple of egg moulding templates and chocolate, along with some adult supervision, and you could soon have your very own unique Easter eggs to enjoy.
Fancy winning a £50 Hotel Chocolat voucher to treat yourself and your loved ones this Easter? Then how about entering our competition? Terms and conditions apply. Just follow the link to enter:
Terms and Conditions Apply.
Published Date: Friday 1st March 2019
Back